Greetings from my boudoir, which I refer to as "Chateau Coco," my "pink parlour," my "pink palace," and more! I would say I spend the most time in here, and I thought maybe I would showcase it a bit, and talk about where I drew my inspirations from, while sharing my current favorite dressing gown, in the colors of my pad...
I would say the boudoir has a variations of themes, because I have a love for so many different design styles, I love to combine them and create my own personal aesthetic. These styles are Hollywood Regency, with a bit of Chinoiserie, Art Deco, Rococo, and Midcentury kitsch. Born in the 1930s, Hollywood Regency includes the revival of early European design (such as tufted velvets & crystal) mixed with bold, moderne Art Deco lines.
I'll never forget seeing this photo of Diana Dors and those colors! She lays on a classic Old Hollywood Regency liquid satin comforter, in front of a pink Rococo/Baroque revival headboard. I loved the contrast of the soft periwinkle drapes, which is where I got the idea from. Of course, when you have velvet tufts and satin, crystal candelabras or chandeliers are a must. The number one elements for a perfect Regency room are absolutely florals & feathers! I try to have fresh roses as often as I can, but I love the look of dead roses in vases oddly enough, too.
My drapes are a jacquard damask print, with gold threading and crystal bead trimming on a skirted valence. Another major inspiration for my color palette was my obsession with Marie Antoinette! I love both silver & gold, so I combine both throughout things such as sconces, picture frames, mirrors, and furniture. My dresser / end table sets are 1950s does french provincial, with gold gilt accents, but are wonderful next to silvers and crystals.
The interest in Chinoiserie and oriental influence actually comes from my dad. He grew up in Hong Kong, and so we had many fans, vintage vases with peonies & peacocks, and other Chinese decor when I was growing up, that I have adopted for myself. I also was enamored by one of my grandmothers, Georgia, always wearing a traditional Cheongsam with chinese buttons in my favorite old family photos. My dad took me to see Hong Kong, and I instantly fell in love with the city and the Asian aesthetic. Some of my favorite films & fashions in the 1930s & 1940s, all donned the beautiful, exotic, Asian inspired, Art Deco looks, which continues to amaze and inspire me.
Jean Harlow and her boudoir in "Dinner at Eight," might be my number one inspiration when picking things for the parlour <3
I love fans because they represent every era and theme that I love. Whether romantic or rococo, Asian or Art Deco, a fan is such a lovely symbol of femininity and grace. I have traditional painted fans, feathered celluloid fans, and even a big wall plaque fan! The wall fan is very special to me. It is ivory and painted with soft pink & blue accents in an elaborate floral design, finished with real lace on the edges.
I get a lot of questions about my headboard. It is pretty unique with double sides, and accented with a gold & silver glaze. It has a King Louis revival feel to it, with ornate posts and shell elements, over a deep pink velvet. It was probably my luckiest vintage find ever, and such a happy story. I found the listing online, and I was so happy to see that it was only in Long Beach, at Magnolia & Willow. This cut any high shipping expenses, so this could be why it was so readily available, as not everyone is local. I remember picking it up, and the lady said she knew it was going to the most perfect person. The home she recovered it from, was the home of a very eclectic lady! I think I would have loved this lady alot...
Kim Novak on a pink, satin, tufted bed and liquid satin sheets. This was thee bed for any pink pinup in Old Hollywood.
Rounded boudoir pillows are also a must for me, as they were thee pillow for the Golden Age of glamour. My accent pillows are in complimentary, and contrasting, shades to pick up all the themes in the room, including gold and pastel pinks & blues with damask, tassels, and fringe.
Finally - the gown. This dressing gown is everything I could ever want while lounging, but luxuriously. It is a late 1930s or early 1940s floorlength, brocade, satin in the prettiest pastel shade. I would say it's in between an icy blue and a lavender, which is absolutely the perfect color for my 20th Century Fox faux fur from our shop, you can buy
here
. It has a gorgeous floral pattern, and a power shoulder, it zips up from midriff, and finishes shut with big, baby pink, Chinese buttons. Heavenly Harlow indeed!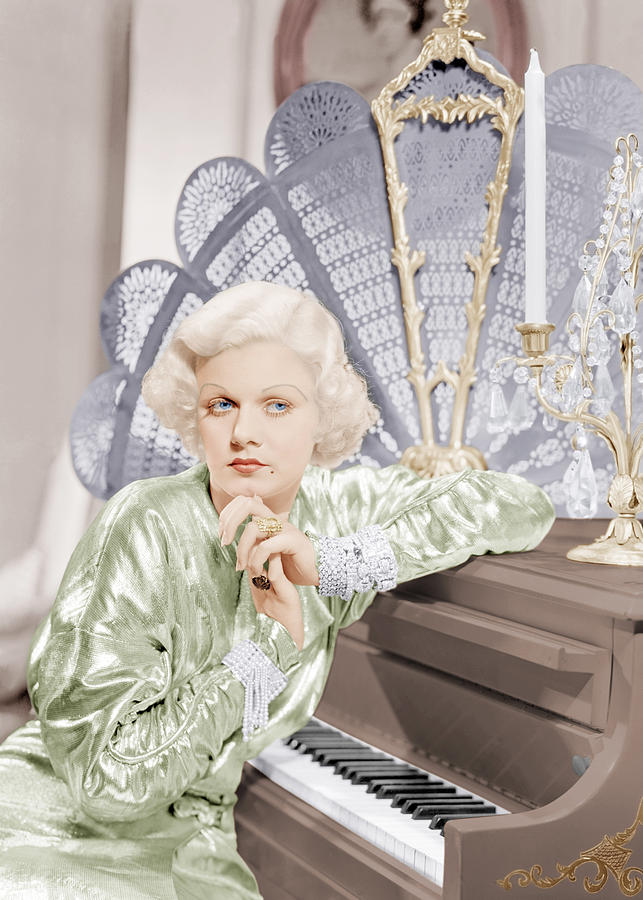 For my 1940s starlet style, I'm wearing Besame Cosmetics,
"American Beauty"
lipstick, which is a cool red shade from 1945.
1930s Film style portrait shot
I hope you enjoyed a little peak into my pink parlour!
xx Ashlyn