Laced with love & pretty in pink was the theme for this whimsical wonderful day at
The Madonna Inn
, on Valentines Day. Fifties florals with pretty pink laces and plush fur, came together for a dreamy ensemble made for Jayne Mansfield's Pink Palace, if it were still in existence today. Though the famous pink Old Hollywood house is no longer, the enchanting Madonna Inn, would surely be Jayne approved!
Jayne's Mediterranean mansion was a palace painted in pink, set in Holmby Hills on Sunset Boulevard, and will forever be remembered as a pink landmark. The pink palace was filled with Old Hollywood Regency style decor, featuring pink fur walls, cupid statues, a heart shaped pool & bathtub, and even a fountain filled with pink champagne! There is no doubt that Miss Mansfield and her Pink Palace inspired The Pink Collar Life <3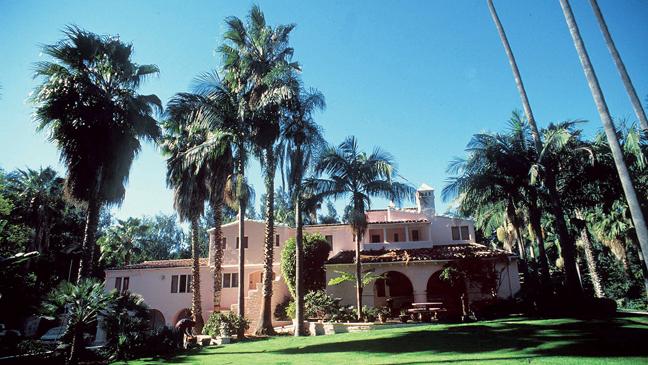 The Pink Palace c. 1950s
The marvelous Madonna Inn Steakhouse
The entrance to Madonna Inn is feminine, fabulous, and festive, featuring pink and white paint, and also heart cutouts throughout the property, reminiscent of Jayne's use of hearts. Every day is Valentines day at the Madonna Inn! True to the theme of love, my dress is a vintage 1950s pink lace bombshell silhouette with a sweetheart bust-line, and a pink chiffon waistband accent. As a nod to Jayne's pink fur powder room, I wore my 1950s pink faux fur bolero. Of course, some added jewels inspired by the famous fifties blondes, finished the look.
Jayne with husband Mickey, who built her the heart shaped pool.
La vie en Rose!
<3 Ashlyn