As you may have noticed, we love stars here at The Pink Collar Life. As evident in our branding, we love stars not only for their lovely shape, but also the symbolism behind them. For us, the star represents the Golden Age of Old Hollywood, as starlets are honored on the Walk of Fame. Names are set in charcoal terrazzo contrasts, inside a pink terrazzo star and brass surrounding the emblem and lettering. In 1955, the head of the Hollywood Chamber of Commerce wanted to "maintain the glory of a community whose name means glamour and excitement in the four corners of the world," which was how the idea came to be. Stars were commonly seen in fashion, architecture, dingbats, fonts, graphic design and more especially in the 30's, 40's, 50's...
Ladies who Luxulite
Leave it to Katy of
Luxulite
, to completely immortalize the iconic shape and symbol, into the ultimate mid-century, twinkling tinsel-town brooch. As you know by our
Ladies in Luxulite
post,
Luxulite
is our go-to for early 40's & 50's reproduction fancy, flecked, fakelite! It would only be right to collaborate with
Luxulite
, to create the perfect piece for all the pink-collar gone gals out there.
Like the Dolly Sisters in their pink and blue marabou robes, Ashlyn loves pink and Tara is a sucker for minty blues. Luxulite has created our stars in each of these color combinations, perfect for all of you girls who prefer some sparkle on your sweaters. These designs are especially lovely because they are fabulous for all year round, whether you're feeling a whimsical winter look, or a summer pastel look.
When we mentioned the star mold as the concept and inspiration behind our collaboration piece, Katy was instantly on board, as she hadn't attempted it yet, and loved the idea. You can see the attention to detail and craftsmanship that went into this custom star mold, as you know, not all stars turn out perfect! Katy added some tinsel confetti, flecked with tones of gold & silver, as a nod to the tinsel town and silver screen splendor of the days of Old Hollywood Glam <3
"Glorious silver flecks and tinsel strands fill a Hollywood inspired star shape which hand cast from one of my original carvings. With pastel mint background and matching pastel mint coloured cherries cascading from the centre, this beautiful statement pin is sure to turn heads and finish off your vintage ensemble perfectly!"
-Katy
What to wear when at the Madonna Inn!?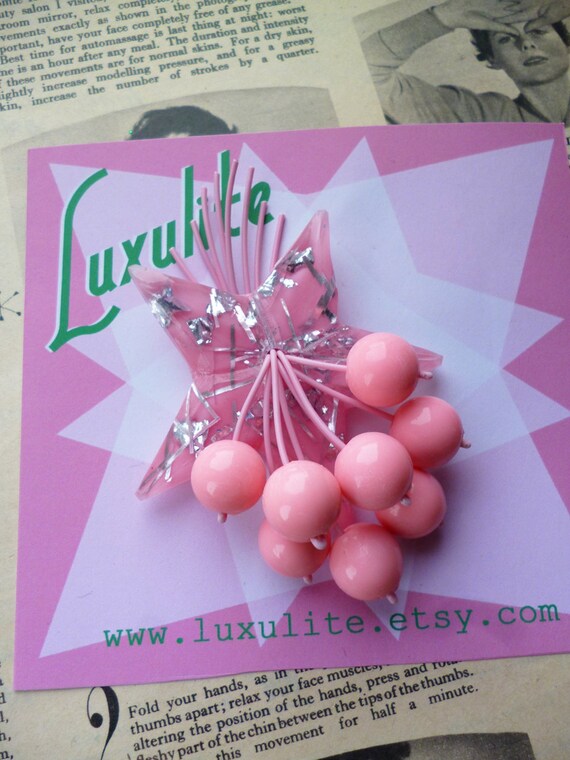 Jayne and her star
Creating the Hollywood Walk of Fame stars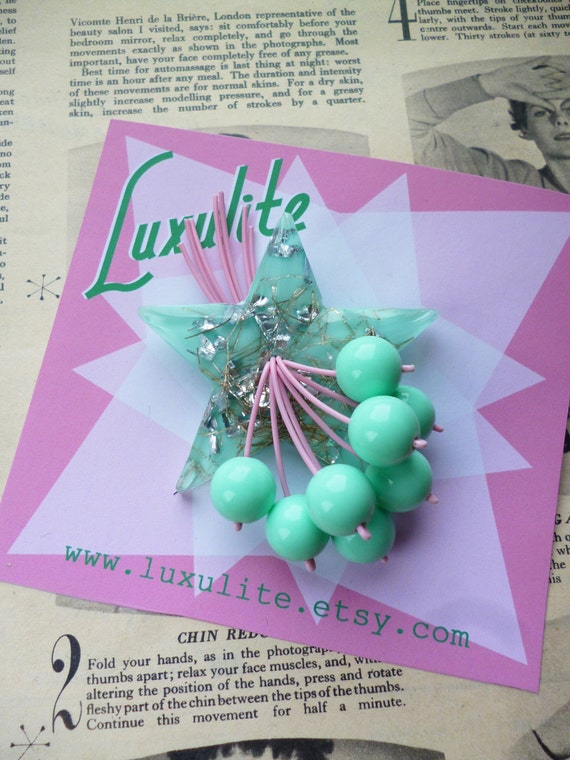 Stars seen in Hollywood Regency design at Max Factor Building
PCL <3 Hollywood Blvd (by Tom Stratton)
Tis the season for a Pink Collar Christmas! Here are some of our current festive fakelite favorites..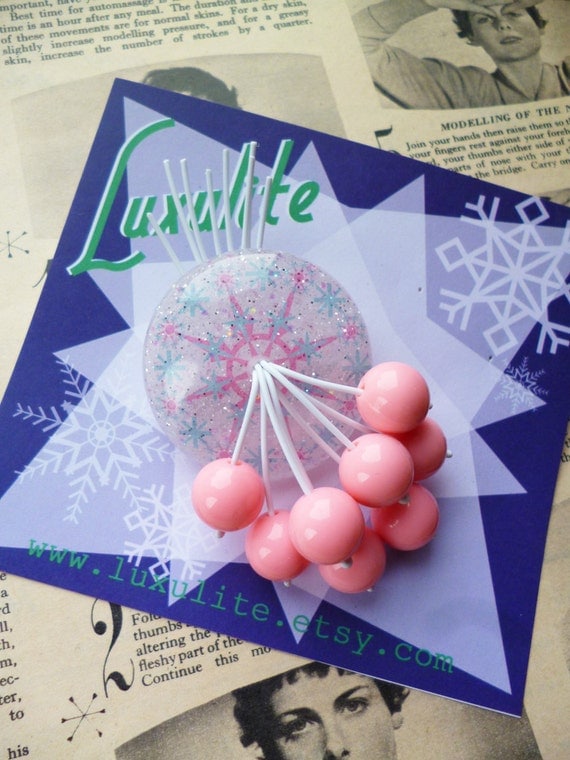 The pastel stars, perfect with glass slippers and springolators this season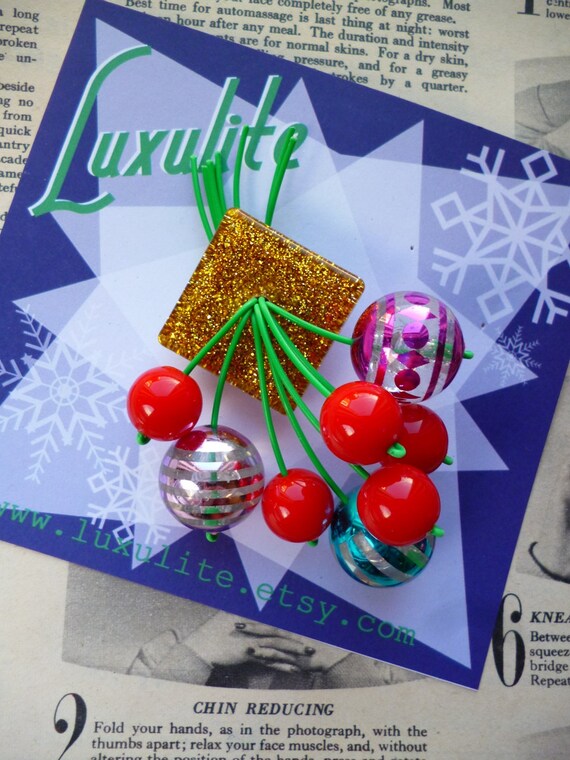 Adorable little ornaments and gorgeous gold glitter
Our fall favorites! Beiges, creams, mauve pinks, chocolates and black are perfect with any leopard print
These red pieces scream Christmas, and pair perfectly with some vintage novelty heels with holly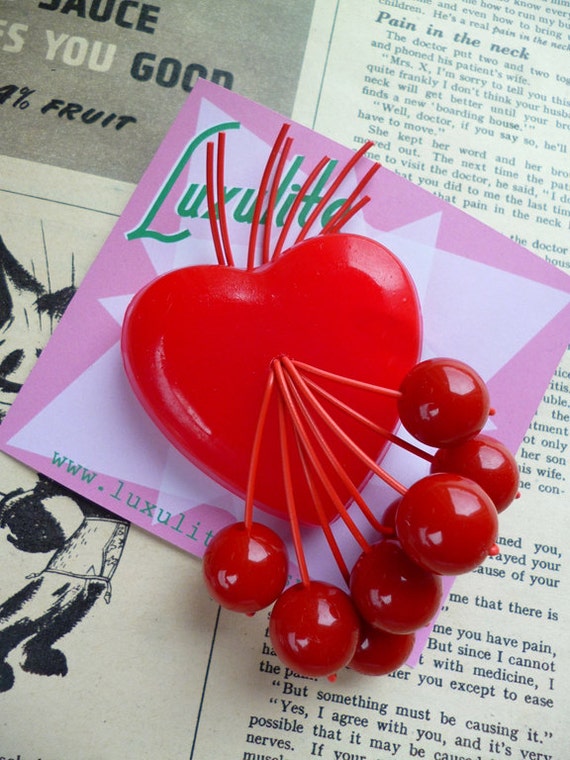 Of course, we love a red heart <3
Head over to the
Luxulite
shop to get your pink collar presents and glamorous goods, and don't forget to use code: PINKCOLLAR10 at checkout for a discount, lasting until December 4th!
*ALSO* head over to our instagrams to find out how to enter our giveaway of The Pink Collar Package, including a pink luxulite star brooch.
@luxulite
@taramisioux
@ashlyncoco
@thepinkcollarlife
<3 T & A